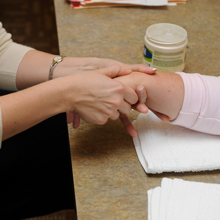 Is pain in your hands, wrists, or elbows preventing you from enjoying normal daily activities, or slowing your work? Injuries can result from arthritis, overuse (CTS), tendonitis (Tennis elbow), and trauma that may require surgery. It may not be necessary to put up with the pain. Treatment and expert guidance may allow you to regain your range of motion, strengthen problem areas, and decrease your pain. Each patient's goals to return to specified tasks are addressed through a series of treatments that may include soft tissue massage, joint mobilization, splinting, modalities, and exercise.
CACC's program includes:
Access to the most up-to-date rehabilitation equipment, including custom splinting, computerized testing and training, and supportive devices
Extensive patient education designed to develop long-term relief and use
Manual therapy to facilitate movement.
For more information, call us at the clinic most convenient to you, so we may answer any questions specific to your needs.