How PT Can Help With Multiple Sclerosis
Physical therapy for people with MS focuses on helping them return to the roles performed at home, work, and in the community. Your first physical therapy visit will consist of a complete examination to determine your impairments (ie, weakness, pain, loss of sensation, balance, or coordination), activity limitations (ie, daily activities that you are having difficulty with, such as walking, dressing, or getting into your vehicle), and participation restrictions (ie, an alteration to your normal activities, such as difficulty completing work and household tasks, caring for yourself or your family, or performing recreational and/or social activities). Following the examination, your physical therapist will develop a specific exercise program for you based on your condition and goals, including a home-exercise program and education on community-based exercise options.
Research studies have found that people in the early stages of MS may experience changes in their walking ability, balance, and breathing. If ignored, these early signs can lead to further disability. When someone receives a diagnosis of MS, the best option is to begin physical therapy right away to help improve any mild challenges, and possibly slow down the progression of the symptoms of the disease.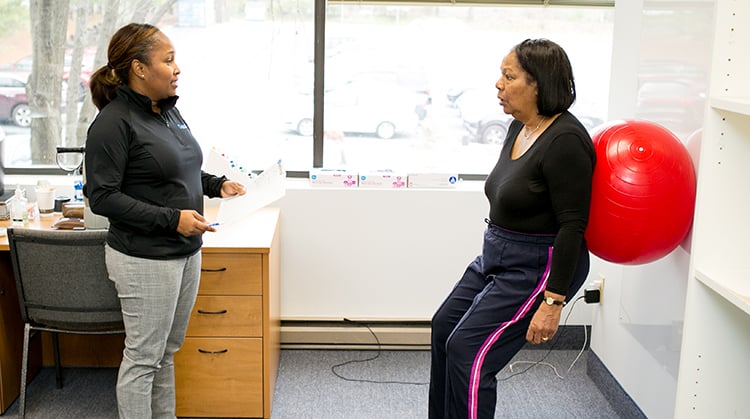 Exercise programs. Exercises beneficial to someone with early MS include strengthening, balance training, stretching, and aerobic training using a treadmill, rowing machine, or any type of stationary bike. In general, the program should be based on the individual's ability, and progressed at that person's tolerance level. The goal of physical therapy in the early stages of MS is to help you perform all your normal activities and use your optimal pacing techniques.
As MS progresses, further disability can occur. Research in physical therapy has identified benefits for people with MS in many areas after completing different types of exercise programs. Aerobic exercise, using equipment, such as an elliptical machine, a treadmill, or a stationary bike can improve your leg strength, walking, and exercise endurance, balance, and mood.
General strengthening. Other types of exercise therapy include general strengthening for the arms and legs, balance training, stretching activities, and relaxation techniques. These types of exercise have been found to improve walking ability, leg strength, and general balance during normal activities.
Aquatic therapy. People with MS may find aquatic exercise a beneficial way to increase their activity. Pool temperature can help maintain a normal core body temperature during exercise to support your general strength. The buoyancy of water can offer support for people who cannot walk on solid ground, and provide gentle resistance to exercise movements. The Multiple Sclerosis Association of America strongly supports the use of aquatic therapies for people with MS. A list of MS aquatic programs can be found at mymsaa.org.
Tai chi and yoga. Programs that include tai chi and yoga may also be beneficial for people with MS. Tai chi is a low-intensity, movement-based form of exercise that can be performed in standing or sitting positions. Deep breathing is included in the technique. Yoga includes breath work, exercises for strengthening and flexibility, and meditation or relaxation techniques. A physical therapist trained in these programs will modify these exercises specifically for each individual's needs and goals.
All adults should complete at least 150 minutes of moderate exercise a week (30-minute sessions, 5 days a week), per the Physical Activity Guidelines for Americans developed by the Office of Disease Prevention and Health Promotion in partnership with the President's Council on Fitness, Sports, and Nutrition.
Contact a location near you to learn more about how we can help.