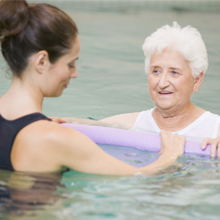 Aquatic therapy is an alternative or adjunct to traditional physical therapy. Did you know that if you exercise in chest-deep water you are only under 10% of your body weight stress? This helps those individuals who cannot tolerate weight-bearing stresses with traditional exercise, or for those who are under post-injury or surgical weight-bearing restrictions. The beauty of aquatics is that the water can give you both resistance and buoyancy. Aquatics therapy is not only good for initial therapy, but also for high-level performance training.
All CACC pools are warm water.
CACC's aquatic program is beneficial for treatment of the following conditions:
Limited weight bearing
Post-surgical
Arthritis
Fibromyalgia
Failed traditional therapy
Osteoporosis
Tendonitis and Bursitis
Chronic Pain
Swelling/edema
Back Pain
Obesity
For more information, call us at the clinic most convenient to you, so we may answer any questions specific to your needs.